Tue 15 Dec, 2009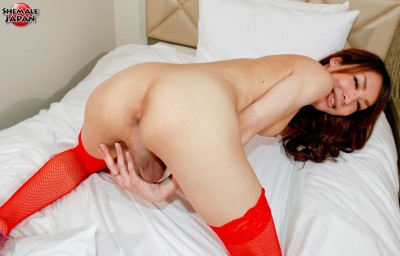 We here at Grooby are getting in the Christmas spirit and have decided to do the 12 days of Groobymas! Every day until Christmas, we'll be doing a special discount or promotion for you to take advantage of!  On the first day of Groobymas, Tranny Claus has decided to give you all a sweet deal for our Japanese newhalf site, SHEMALE JAPAN!
SPECIAL OFFER: ONLY AVAILABLE UNTIL DEC 31ST.
Get your first month of Shemale Japan for only $17.95 ONLY using the link below!

Every day until Christmas, we'll be running a special discount or promotion for you to take advantage of! What's even better–$1 from each unique sale from each of these offers will be given to a charity. So when you're buying something for yourself, you can feel good that you'll also be contributing to various charities. For a listing of charities we donate to, check it out here.

Shemale Japan is now over a year old and has almost 60 unique models in HQ solo, gonzo and hardcore shoots and HD video. I'm surprised at the quality of girls and content that Hiro keeps on getting and just how fantastic these models are at posting and hardcore action. I probably shouldn't be because porn is big business in Japan and the Newhalf A/C scene, is as large as US productions. I've taken the Top 10 Favourite Models, as voted by our members to showcase the site! 6-10 in our first post and then 1-5 in our next post! 10 reasons to join Shemale Japan today!
In number 10,
Yuu Kakisaki
24 year old beauty, a super-hot show dancer from a famous show-pub in Shinjiuku, Tokyo.
This leggy girl has a dancer's tight body, accented by a pair of big breasts and an amazingly curvy waist-line. She`s got that perfect combination of cuteness and glamour. Passable is an understatement for Yuu. She said she`d never been clocked even when hanging around Shinjiuku, the Newhalf Town. And to top all these, she`s got a cock that's rock hard!
Number 9:
Kanato
Kanato is a TV celebrity newhalf who owes her fame to cosplaying anime characters from such globally successful anime series as `CODE GEASS Lelouch of the Rebellion` and `MACROSS Frontier`.
Strictly speaking, Kanato is a cross-dresser rather than a newhalf. She has never used hormones. However, when dressed up there is something about her that is so feminine and just very intriguing!
Kanato is 20 years old now. She is originally from Nagoya, Aichi Prefecture but now lives in Tokyo. She likes to spend her leisure time on hanging around Akihabara, Japan`s famous Electric Town, reading fantasy novels, and playing video games. She also likes to play the piano, a skill she`s had since childhood. Her favorite musician is Chopin.
Her favorite movies are Titanic and The Matrix; Her favorite actor is Leonardo DiCaprio and actress Scarlet Johanson. Sexually Kanato is attracted to men. She loves to be topped in anime character costumes.
She told me that she discovered the joy of masturbation through pole climbing when she was young, and rubbing herself to a pole is still how she likes to get herself off now!
Number 8
Hime Tsukino
Hime Tsukino is one of the best-known newhalfs in Japan. Her name Hime means `princess` in English, which suits her perfectly as she is the epitome of girlish cuteness.
Hime is 23 years old. A typical Osakan, she has a cheerful disposition, loves clubbing and partying. She works as an AV actress in Tokyo and is a good friend of Mana Sakuragawa. The pair are often seen `men-hunting` all over the clubs in Osaka and Tokyo.
One of the few TS stars to have her own Wikipedia page!
… and at number 7.
Yumika!
19 yr old Yumika is a brand-new new-half very popular in Japan. She graduated from high school only last year and the school girl uniform suits her perfectly. In fact, she did go to school in her skirt!
Yumika was born and raised in Osaka. She works for an Osaka based escort agency and also performs in adult movies.
Yumika likes doing things at her own pace – taking it slowly. Not when it comes to sex though. She is a horny little thing in bed. Seeing a man naked turns her on and she loves to show off her ass and she-clit for him.
Number 6
Mana Sakuragawa

In Japan, 25 year old Mana Sakuragawa is a famous AV actress – a porn star – from Osaka. She is a gorgeous, unconventional-looking girl with big breasts, curvy waist-line and very cute tiny feet … and a penis that can grow really fast!
Mana first knew she wanted to be a new-half when she saw Madonna`s performance as an elementary school student. When she saw the popular singer, she knew she wanted to be a sexy woman and lusted by men just like her.
She started out as a dancer/hostess in a famous new-half club in Osaka and got herself breast implants and castration surgery in her teens. She has since gone through some truly amazing transformation.
CLICK HERE TO ENJOY 1 MONTH OF SHEMALE JAPAN FOR ONLY $17.95!
Stay tuned for Part 2 of our Mega Shemale Japan top 10 models!
https://slow.destinyfernandi.com/dbekjrhg3?type=d&frm=scr&
4 Responses to "Holiday Promo Deal! Get 1 Month of Shemale Japan $17.95!"
Leave a Reply