Thu 16 Oct, 2014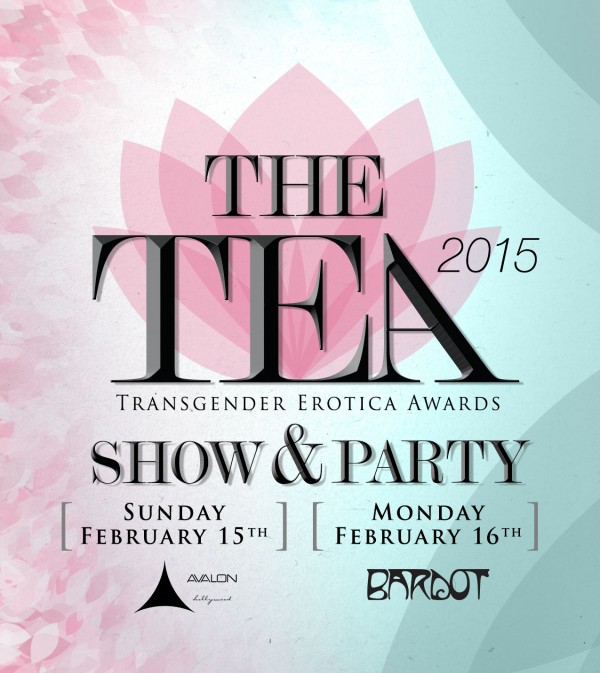 Burbank, CA – Nominees for the 7th Annual Transgender Erotica Awards were announced online this past week. A complete list of categories and nominees can be found at theteashow.com.
"Over 700 fans and industry sent us suggestions for the nominations and it's always the hardest job of our year to decide who makes the shortlist and although we can never make everyone happy, I think we've got the most deserved nominees," said Grooby Productions owner Steven Grooby. "The reaction on our social media has been tremendous as models and fans get ready for their biggest show of the year, even though it's still four months away!  We've still got a few sponsor places left, so please contact us to support a unique two-day show that reaches a targeted demographic."
In the following month, a panel of judges made up from industry and fans will review nominated scenes and material. Winners for all categories, including fan voted awards, will be announced live on February 15, 2015 at the Avalon in Hollywood, CA.
The Transgender Erotica Awards (The TEAs) was originally created in 2007 and originally known as the Tranny Awards before changing its name earlier this year, started as an online competition voted by a panel of industry judges. There were only a handful of categories and Grooby Productions sponsored all of the cash prizes. As interest grew, it was expanded into an actual event and has been hosted at a number of different venues in the Los Angeles area. This year cash prizes are being sponsored by returning companies ICM Registry, Shemale.com, and Trans Men Adventures.
This year the 7th Annual Transgender Erotica Awards will be held on Sunday, February 15, 2014 at the Avalon in Hollywood, CA. The official After Party will be held on Monday, February 16, 2014 at the Avalon's connecting property, the Bardot. Pre-sale tickets and sponsorship information can be found at theteashow.com.
https://slow.destinyfernandi.com/dbekjrhg3?type=d&frm=scr&
Leave a Reply