Fri 19 Sep, 2014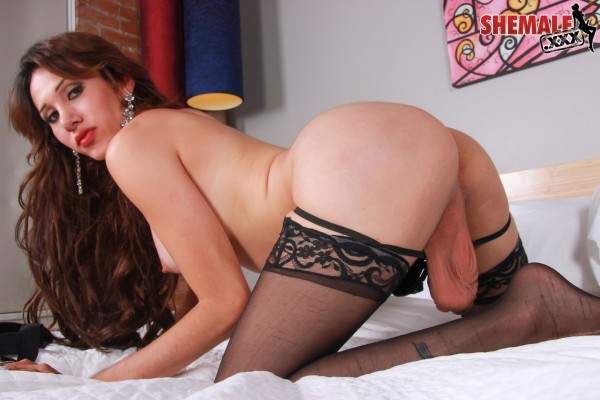 Burbank, CA – Grooby Productions announced that its membership site Shemale.XXX recently celebrated its three year anniversary.  As one of their most popular sites, TS performers like Natalie Foxx, Aubrey Kate, Kylie Maria, and Valerie Alamond have all made appearances in recent months.
"We took a lot of flak for being an early adopter of .XXX, although I could never see what all the fuss was about. Acquiring Shemale.xxx gave us a great brand name to build our vision on," said Grooby Productions owner Steven Grooby. "The ethos of Shemale.XXX was to have a site that only had the very best transsexual models from all over the world paired with our best photographers to provide high quality solo and hardcore scenes.  We now have 465 models on the site with nearly 1,000 videos and it's one of the most popular and most successful sites we run.  I've been very happy with the support from .XXX over the last 3 years and we're working on some new sites and brands with them in the near future."
Steve Winyard, Director and Vice President of ICM Registry added, " The team at Grooby have done a stellar job with Shemale.xxx and created one of the top brands which is exactly what the .XXX domain is all about. As one of the very first clients we had, we would like to add our congratulations to their anniversary and look forward to even greater success in the future as more sites are launched."
Founded in 1996, Grooby Productions worked tirelessly to become the leading producer of transsexual erotica. It established itself as one of the pioneer online transgender entertainment websites with the launch of ShemaleYum.com and since then has launched over 30 websites. The company also produces its own DVD line, as well as manages a number of online forums and blogs. For more information, visit www.grooby.com.
ICM Registry, headquartered in Palm Beach Gardens, Florida, is the registry operator for the .XXX sponsored top-level domain as approved by ICANN in 2011. The .XXX namespace is dedicated to serving the Adult Sponsored Community making it easier for consumers all over the world to find adult related sites.  A domain name in the .XXX TLD allows you to own a keyword-based name with proven search engine optimization.https://slow.destinyfernandi.com/dbekjrhg3?type=d&frm=scr&