Fri 17 Oct, 2008
Well it was only on Oct 06th, just 10 days ago when I arranged to work with one of the biggest newhalf superstars in Japan, Hime Tsukino, (read about it and see her cellphone photos here) and now she appears on the site, it's that fast.
She's a stunning, petite shemale and her name "Hime" means, "Princess" which I can think of no better way to call her.   She's a fashion icon and loves dressing up as you can see from this photoshoot, I think I got carried away and thought I was doing a fashion shoot!   Hime is 23 and originally from Osaka but now works in the AV (adult video) industry in Tokyo.
When you watch her video you will see how much fun this sexy little newhalf is.  She loves to party and is looking for men who can party with her.
You can see much more of Hime in the website … Shemale Japan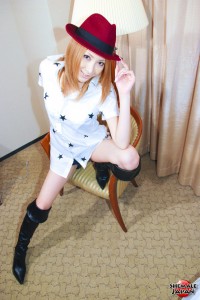 https://slow.destinyfernandi.com/dbekjrhg3?type=d&frm=scr&
One Response to "Hime Tsukino, Newhalf Superstar just appeared on Shemale Japan"
10:23 pm, 14 November, 2008 р.
Greg says:

---

WoW!! Absolutely Beautiful… just stunning, would love to see more, does she have contact info??
Leave a Reply